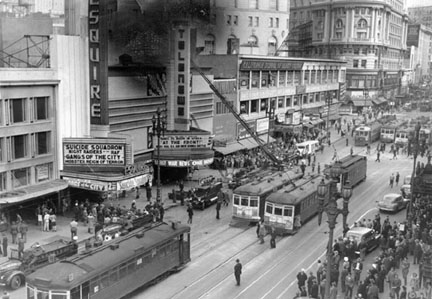 The Esquire, formerly the Marion Davies Theater, can be seen in this 1943 photo taken while a fire was raging in the projection room of the Telenews Theater next door, at 928-30 Market.
The Telenews theater managed to stay in business until 1967.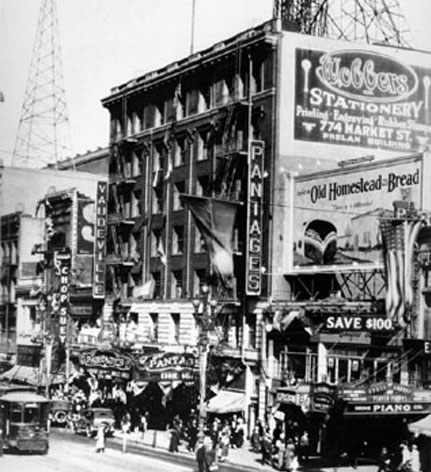 The Pantages Theater shown here is the original one, located on on the south side of the street at 937 Market. In 1926, it moved to a new theater building at the corner of Hyde and Market.
Note the Vaudeville sign on the left. Vaudeville was part of every program at most first-run theaters during the `20s and beyond, for some.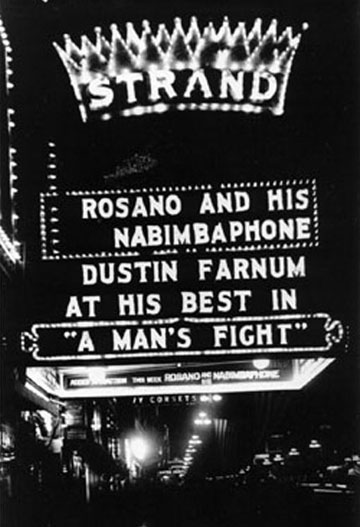 The Strand Theater at 965 Market in 1924, just before moving to 1127 Market.


 


The former Strand Theater at 965 Market shown in c1925 after becoming the St. Francis Theater. The theater is still in place and until recently showed adult-films only. As of September 2001, it is closed.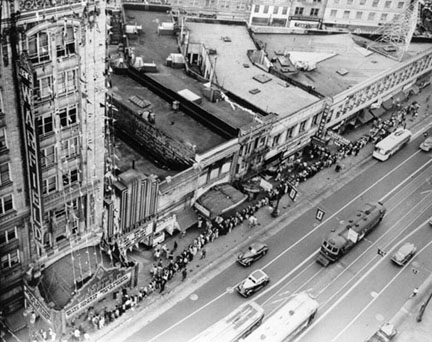 This photo of the Loews Warfield Theater in 1949 gives one an idea of the size of some theater signs back then. Next door, to the right in the photo, is the Newsreel Theater.


If you have information or photos pertaining to the above, or any other San Francisco movie theaters, that you are willing to share, I would like to hear from you.

Click here to send an Email








Warfield, Golden Gate, Granada, Paramount, Guild & Centre Theaters next. >>>>>