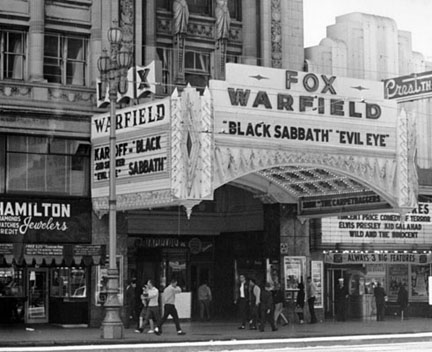 Not long after the Fox Theater was torn down in 1963, the Loews Warfield became the Fox Warfield. The next door theater, which was the Newsreel in the 1949 photo, had become the Crest Theater by time this photo was taken in 1964.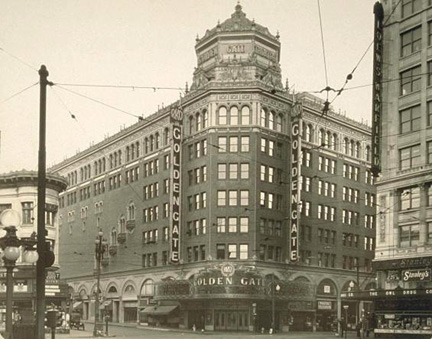 This c1930 photo of the Golden Gate theater gives us another look at the Loews Warfield Theater which was just across Taylor Street. The Golden Gate is located at the intersection of Golden Gate, Taylor and Market and although its address is 25 Taylor, it has always been considered a Market Street theater.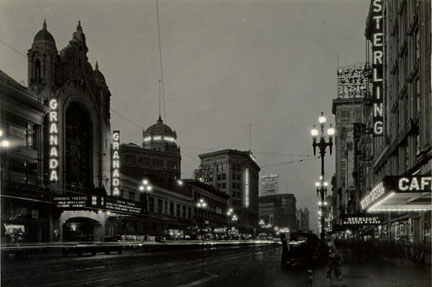 The Granada Theater opened for business at 1066 Market Street in c1925. By 1931 its name had been changed to the Paramount.





Looking down Golden Gate Avenue from Mason to Taylor Street. On the right is the "back" entrance to the Granada, on the left is the Golden Gate and, if you look closely you can see the tall sign of the Lowes Warfield, in the background.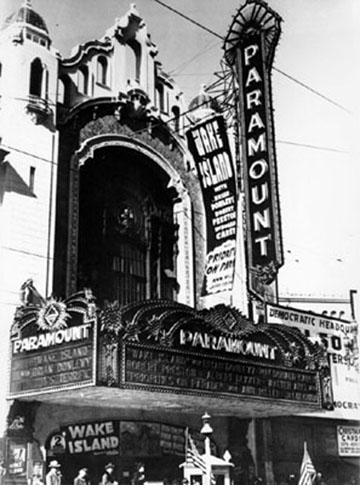 The former Granada Theater, as the Paramount Theater in 1942. Hard times hit many of the big movie theaters in the `60s, but in the case of the Paramount, it was an arson fire, that did it in. The damage was so severe, the theater was torn down in May of 1965. Today only an empty lot marks its former location.
A couple of doors down Market from the Granada/Paramount, at 1046, was the Pompeii Theater. It was renamed the Regal, c1940 and survived until 1970. No photos are available of either theater.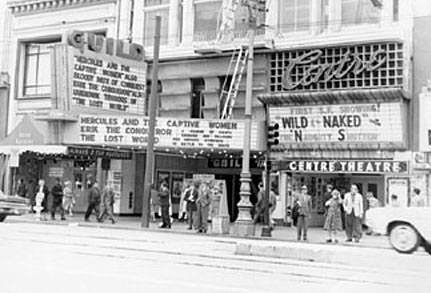 The Egyption Theater was a fixture on the south side of the street at 1069-1071 Market, from before 1927 until at least 1935. About that time, it was split into two smaller theaters (ahead of its time, it appears), first the Studio and the Roundup and eventually, the Guild and the Center. No photos of the Egyptian Theater are available.



If you have information or photos pertaining to the above, or any other San Francisco movie theaters, that you are willing to share, I would like to hear from you.

Click here to send an Email








Imperial, United Artist, Rivoli, Vitaphone, Embassy, Strand, Pantages and Orpheum
Theaters next. >>>>>