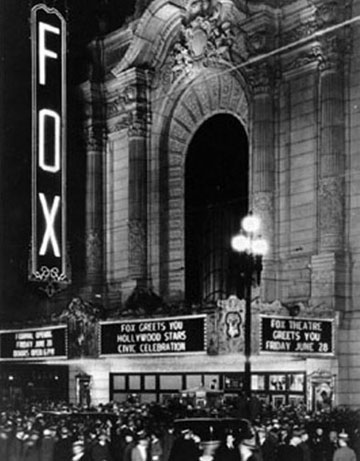 Opening day for the Fox Theater, June 6, 1929.
Located at 1350 Market, at the intersection of Hayes, Larkin and 9th Streets, the Fox was the biggest, most expensive and most beautiful theater west of Chicago.
Built at a cost of $5,000,000 and completed just four months before the Great Market Crash of `29, the Fox Thearter began losing money from the very first day.
By 1932, Fox had gone bankrupt and the theater was closed. It reopened the following year, however, with some minor policy changes, including lower prices.
One hundred Hollywood "stars" were brought to San Francisco on a special train to be on the stage opening night. Like most of the large theaters of its time, an evening at the Fox during the `20s and `30s included a movie or two along with vaudeville.
A fact that relatively few people seemed to have been aware of, was that in the basement of the theater there was a small hospital, bowling alley, tennis court and a gymnasium.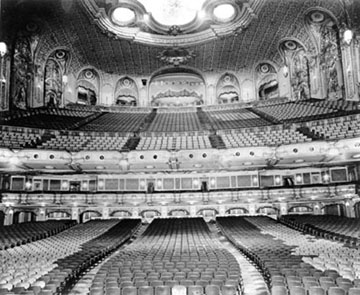 The auditorium and balconies combined, had 5000 seats and it was not uncommon for them all to be sold out.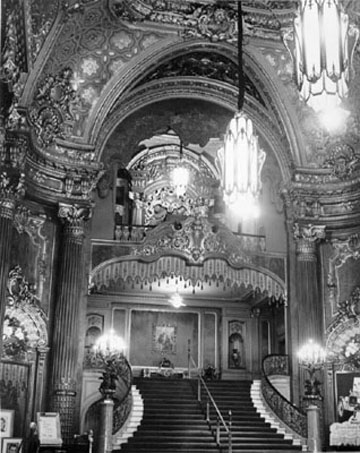 I am not sure which staircase this was, but it is a typical example of the opulence of the entire theater building.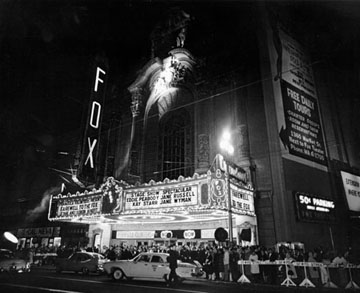 The final night of the Fox Theatrer, February 16, 1963. The building was soon to be torn down.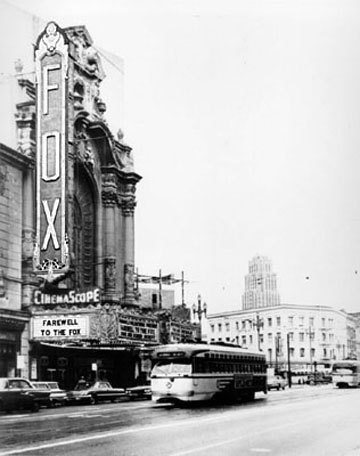 The sign on the marque said it all. It referred to the final show to be held that night.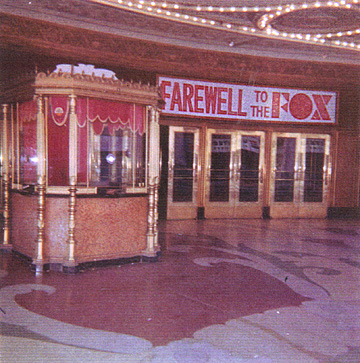 The Fox box office.
This photo, taken by Daphne W. Schick, was taken shortly before the theater closed forever.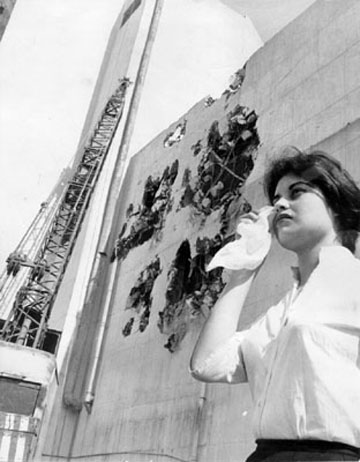 A young woman wipes away a tear as the wrecking ball tears a hole in the side of the Fox Theater. For many, February 28, 1963 was a sad day.




If you have information or photos pertaining to the above, or any other San Francisco movie theaters, that you are willing to share, I would like to hear from you.

Click here to send an Email